Here's just a little information about us in case you're curious. My mother and I designed the Kraddle Kap satin bonnet for my first-born daughter.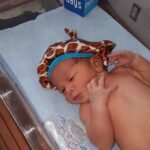 Once she was born, I noticed that she had so much hair and it was important for me to take care of every part of her, including her hair. I've done so much online shopping to find the perfect fitting satin bonnet for my baby, but I didn't see exactly what I was looking for 5 years ago. In the meantime, I just manipulated one of my adult bonnets that I purchased at a beauty supply store. Although that worked, I was not satisfied. I started seeing that there were other moms out there like me, using their adult bonnets for their babies too. So, I decided to design a bonnet specifically for babies in honor of my daughter.
It was my desire to make the bonnet fit like a baby's beanie for safety purposes to prevent any risk of suffocation. Incorporating safety into my design, it was important to make sure that the band fits snugly to the baby's head circumference. Secondly, I needed to remove all the extra unnecessary material to prevent the possibility of the satin getting in the baby's face. Next, the band has an ear cut out on both sides as a comfort measure for baby. This ensures that the bonnet raises above the ear. Finally, we use a lightweight satin material that is effective for hair protection.
I've successfully used my Kraddle Kap bonnet design for both of my babies without stressing out over the risk of suffocation. My motive is not to coerce your decisions. I know that you know your baby best. And we respect your parental instincts if this product is not for you. If you're still anxious about the possibilities, consult your baby's pediatrician.
Our Recommendations:
Ensure that the bonnet fits snugly prior to each use.

Monitor you baby the first few times while wearing the bonnet especially during sleep.

Replacing your bonnet every 6-9 months or when it becomes worn.
Please see size chart:
| SIZE | AGE | HEAD CIRCUMFERENCE |
| --- | --- | --- |
| SMALL | 0 - 3 Months | 13.0-16.5 inches |
| MEDIUM | 4 - 14 Months | 17.0-19 inches |
| LARGE | 18 - 4T | 19.5 inches |
| XL | Child/Teen Age | 20-21.5 inches |
| ADULT | One size fits most | 22 inches |
Please understand that there's other companies manufacturing baby bonnets, but we cannot speak on their behalf.
Blessings,
Kraddle Kare